Post by Deleted on Oct 13, 2012 16:32:34 GMT -5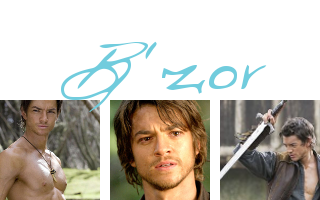 Weyrling | 23 Turns | Male | Heterosexual
Appearance
Standing at five feet and eleven inches, Belizor is just over average for a man his age. His physique is toned and he possesses well defined musculature on his torso and arms from turns spent chopping trees and clearing the land around the Weyrhold as well as helping till the fields each planting season. His complexion is a relatively even, golden tan from days spent shirtless in the sun. His hair is a bit shaggy and a dark brown color that has been lightened somewhat by the sun creating a dynamic array of colors. His eyes are a rather common brown and very expressive though not nearly as expressive as his face. Some would consider him handsome, with a strong jaw and heavy brow, though he doesn't seem to notice, or care for that matter.
Faults
[/u][/center]
Apathetic and a little reclusive, Belizor doesn't go out of his way to initiate a conversation and will often refuse to speak if he is working on a project. It is not that he's particularly unfriendly, he just prefers solitude to a mass of chattering people. Because of this some might consider him rude when he responds to a compliment or critique with a simple shrug. Perhaps not the cleverest of young men, Belizor would not do well in a leadership position despite his ability to teach by way of demonstration. Though he seems to prefer the carnal company of women, Belizor isn't an overly sexual being and tends to be utterly clueless when it comes to women and flirting; in truth he could probably do without the whole male-female dynamic all together and not miss it.
Perfections
[/u][/center]
Hardworking and dependable, Belizor has been a reliable worker since his family uprooted and relocated to the newly established Weyrhold, becoming the chief "in-house" source for furniture. He is well aware of his duties and never shirks them—at least not without an acceptable reason. Adaptable and amiable, he can adjust to just about any situation, be it social or otherwise. In general he is laid back and respectable and tends to avoid being overly critical of those around him.
Family
[/u]
Mother
Lizoryn; Homemaker, 43
Father
Bertran; Woodcrafter, 48
Brothers
Bertryn; Woodcrafter, 21
Berlizo; Woodcrafter, 15
Sister
Lizra; Crèchewoman & Candidate, 19
Liberyn; Deceased
History
[/center]
First born to a young Woodcrafter and his new wife, Belizor had a fairly normal life filled with love, laughter and a bit of hardship. He was joined by two more brothers and a sister. Having lived near Tidewalk Weyr, Bertran volunteered his family to join the group of riders that decried the weyr for not making preparations for imminent Threadfall. Suring the journey, Belizor's youngest sister—Liberyn—was killed in the Fall though miraculously the rest of the family emerged, however, not entirely unscathed. Once they settled in at the new Weyrhold, Bertran, Belzor and Berlizo found themselves quite busy with demands to furnish the new Weyrhold and worked together with both farmer and smith to supply Mavros with the tools they would need to settle and later the amenities they would need to flourish. One turn after arriving, Belizor was Searched to stand at a clutch and though he did not Impress, he continues to hold out hope that he will one day be able to fight the Thread that took his baby sister from him.
Weyrling Section
[/u]
Please; call me B'zor
I have recently Impressed to the Brown hatchling Litniroth.[/center]
---
IN THE EVENT OF YOUR SUDDEN, UNEXPLAINED DISAPPEARANCE FROM THE SITE AT ANY POINT IN TIME, WHAT DO YOU WISH TO BECOME OF THIS CHARACTER AND ANY CREATURES THEY MAY IMPRESS?
a. Put them up for adoption by another player.
b. Turn them into an NPC who may be killed off or used for plot purposes but who will not be played by someone else.
c. Turn them into a free use NPC, who will not be played by any one person exclusively but will continue to be developed by the combined efforts of the site's members.
d. Other (please specify)